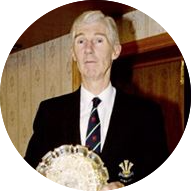 Les Baldwin was one of the founders of Wrexham Amateur Athletic Club in 1954 and served as a coach and referee. For more than 40 years, he was the club's cross country secretary and a stalwart of the North Wales Cross Country League from the outset.
In 1998, he was made an MBE in recognition of his services to the sport and six years later he received a Meritorious Award from Welsh Athletics. He was a life-president of the Wrexham club and he became the first life member of the North Wales League.
The chairman of the Wrexham club, David Alun Williams, who joined the club in 1969 and took over as league secretary four years later, worked alongside Mr. Baldwin. "He was good to work with and was respected by everyone in the sport, both within the club and outside," he said. "As a middle and long-distance coach, he helped bring on many outstanding young athletes over the years, several gaining international success. "Les was a dignified, quiet and thoughtful man with many friends who did things the right way. "He had strong values which he passed on to others. They were important for athletics and for life away from the track.
As well as coaching, Les Baldwin continued to compete in races into his 70s.